Cool vintage housewares - moss gardens - succulents - heirloom seeds - pepper plants
Jul 28, 2009
FREE SHIPPING within the US, through July 31st for any order totaling $50 or more. :)

Dakorah Designs on Etsy
On Etsy and any other site where we sell our wares and creations, pictures do most of the work for us. If our photos are dark, and hard to see, the products simply won't sell as readily as those with bright, clear images. For small products, such as jewelry a light box can make a world of difference. Here are some simple instructions I found on how to create your own light box, instead of buying an expensive one. Hopefully this will help you create better images for your products. :)
*I did not create this tutorial, but I no longer have the original link to the page it was on so if anyone has it please send it to me and I will link to it on here. :)

HOW TO MAKE A PHOTO BOX
I GIVE PERMISSION TO COPY THIS PAGE AND POST IT ON YOUR SITE...
I wanted to share my knowledge on how to take good photos of jewelry
and other small objects. I created a "Photo Box" which is easy to
construct and use! I've noticed that a lot of people (in general)
could use this method I use.
ITEMS YOU NEED
12x12x12 box
14 x 10 piece of plexy glass or glass
a knife
background paper (scrapbooking paper is great from craft store)
wax paper
60-100 watt light
How to put it all together:
1) Take your 12x12x12 box and cut out one side. Keep the bottom of
your box intact.
2) (open side you just cut out) Measure 9 inches from the bottom and
make a slit all the way to the back of the box on both sides. Do not
cut the back of the box.
3) Slide your glass into the slits of the
box
4)
Take the wax paper and tape it over the light source. The
wax paper is used to defuse the light.
5) Aim the light towards the opening of your box.
6) Lay your background on the bottom of your box as your background.
7) Shine your light into to open area of the box. Take your photos from the back of the box... with the light facing you.
Your camera should focus on the jewelry or small object. The
background will be fuzzy due to the distance of the background from
the object.










Posted by

Rusty Rose
at 1:23 PM
No comments:
Links to this post


Jul 26, 2009
Through July 31st, 2009 I am offering free shipping on purchases over $50 in my shop on Etsy. www.DakorahDesigns.etsy.com
Come check out my latest vintage finds, Ive come across some fabulous treasures recently. I lucked into several old wooden soda box crates, some really cool vintage jewelry, great old kitchen gadgets and much much more. I still have stuff I will be listing daily to catch up on my shopping finds. :)
Ive also started putting together some really sweet succulent desktop gardens, with most of them using vintage creamers (a FAV vintage item of mine), cups and bowls as well as a few old vintage planters. Why not bring a little green on to your desk to brighten your day?
I have quite a few glass moss garden terrariums I will be listing soon, I like to let them set up and start growing before I list them for sale. These will range in size from 3" tall to one super large one over 14" tall. :) Yet another fabulous way to bring a little green into your life....and you don't even need a green thumb!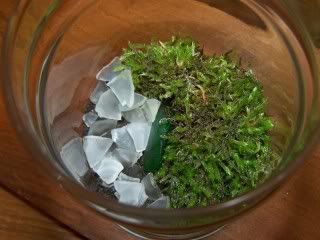 Posted by

Rusty Rose
at 3:57 PM
2 comments:
Links to this post


Labels: bowl, creamer, cup, garden, home decor, housewares, moss, succulent, terrarium, treasures, vintage, vintage home, vintage jewelry, vintage kitchen, wooden crate